Random Thoughts About my Art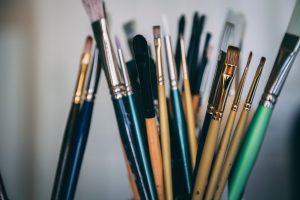 Today I wanted to post thought thoughts and feelings about my Art. Why I paint and more importantly what I paint. Hope this gives all my friends and family some background on my favourite hobby.
We all love to express ourselves and in the crazy world we live in today, you really need a great hobby and something that allows you to put aside the challenges and problems of the world. For me, painting is something that allows me to relax.
I have other hobbies and love to read, create stuff with wood and spend time at our family cabin at Moberly Lake. Getting up in the morning, sitting on the sundeck with a coffee and family around makes for a great life.
People ask me why I paint. I can honestly say its one of the few things that help me relax, stay somewhat stress-free and also explore the creative side of my life. What surprised me a few years ago was the combination of painting and researching my painting themes. This was fun but soon I found the feeling of actually touching the paint and using paint textures, mediums and getting my hands wet really made a big difference.
Imagine having a hobby you can do that gives you the best feelings and really makes you feel whole. Your problems literally fall away. I know this feeling for me is very addicting. The closest I can describe it is this example. When I used to draw race a car a few years ago, I would take off like a rocket, pull a few G's and 10 seconds go from o mph to 130 mph. It was a huge adrenalin rush. Well oddly enough when I paint, the excitement level is just about as big. Mind you without the danger aspect.
Why do I paint what I do?
Alot of people ask me why I paint the themes I do. It is a great question. Lets first start with a current list of what I paint with a short note beside each topic/theme:
Flowers and Window Boxes – I paint these as I love gardening, grew up in Victoria and spent many years helping my wife garden. The colours smells make it easy to love these themes. And many people love my rich use of colour.
Sci Fi / Steampunk – I have been a HUGE fan of Science Fiction. Over the years, I started to really enjoy the Steampunk movement. The Jules Verne style blend of old items used to describe art and other Victorian themes was fun. I also helped develop computer games over the years and love non-violent adventure games. Match this with some fantasy coupled with Lord of the Rings and Dune, well these are great subjects to paint.
English houses / Architecture + Cotswold Homes – I grew up in Oak Bay ( part of Victoria ) in an area with predominantly old English homes. I collect David Winter Cottage and love English architecture. This is a big part of why I want to paint these themes. Coupled with English gardens, it makes for a great day of painting.
West Coast Themes / Old Growth Forests – Growing up on the west coast of BC….well it doesn't take a brain surgeon to see why these themes are fun to paint. I camped a lot on the west coast and on Vancouver Island. I have many fond memories of this area. My art reflects where I grew up in a lot of ways.
Firefighters themes – I worked as both a volunteer firefighter and then from 1981 to 1987 a full-time firefighter. Painting firefighters and burning buildings reminds me of that time in my life. My father in law was a firefighter for 35+ years and I always admired his career.
Rail Car Themes – What can I say? I love trains, model trains and should have gone to BC Rail or CN when I was a young man and got a job. To this day, I hear a train and go running to see it!
Japanese Architecture and Gardens – This has been an interest of mine since about age 12 when I saw Japanese themed gardens and was enamoured with pictures of Bonsai, Tea Gardens and many other Japanese themes. Hope to one day go to Japan to study their architecture.
My other topics I paint include Mediterranean buildings, old wagon wheels, west coast marinas and more. Again, painting from great memories when I was younger.

So there you have it. Why I paint and reasons why I paint what I paint. Now you know "the rest of the story".

Last thoughts – I hope in the coming months/years that more of my work will sell and I can work 50% of my time as an artist and eventually retire and work 100% on painting. It's that much fun!