Japanese Koi and Pond Update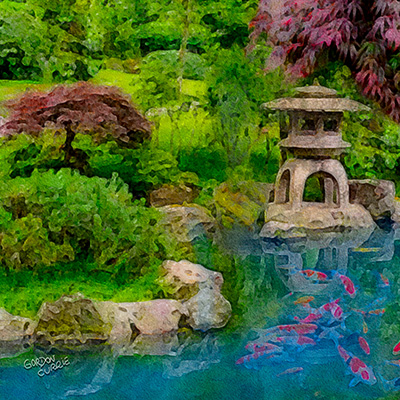 Today's blog post covers some of the software I use for my digital painting. I also talk about brushes I use to create some of the textures I use for foliage (for my garden art).
My program of choice on my iPad Pro (12.9") is Procreate Version 5. It allows me to sketch ideas and paint images I post on this website. I use a 1st generation Apple Pencil along with a variety of accessories (clear protective cover for the screen as well as special pen tips.
Most of my paintings are created ranging in size from 12" x 12" up to 18" x 24" at 300 dpi. This allows me to print my images and make prints on paper and canvas.  I order them from a variety of sites online and have the prints sent to me.
I use brushes for my garden art paintings from brush packs I have bought online or created myself. Some brushes I have bought include brushes from Art and Design brushes (V4) purchased by DesignCuts.com. I also use brushes from Visual Timmys Holy Halftones,  Mandy Bellwoar's Ghibili brushes and many others.
When I see textures of plants, bushes and general jungle foliage, I will scan the images into my computer and create patterns used for creating custom brushes, that I create in the brush editor that comes with Procreate. I can customize hundreds of aspects of each brush including colours, pressure, rotation and angle off my digital pencil.
One of the secrets I use to create plants is to paint the dark background and shadows of the leaves and foliage first. Then I randomly generate the leaves and brighter foliage. Knowing what direction the lighting is coming from is key. As is backlighting the can reveal leaf's veins and patterns. Also varying the colours to include browns and yellows or in some cases reds and oranges for certain Japanese plants.
I have a number of brushes I use that are designed for painting bark and the branches of trees and bushes. Every tree / branch / roots have a very unique pattern and texture. So creating random patterns is very important. I have brushes for dappled tight that pokes through branches and create unique shadows.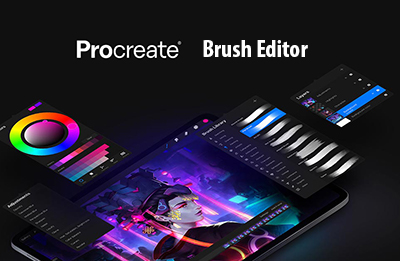 Shadows on plants and trees is very important. Know what shape to paint them as well as shadow colours is very important for realism. Angle of light, reflected light ( from both the sky and objects on the ground) and other light sources. This is a topic that could have its own blog post by itself.
Procreate uses layers ( like Adobe Photoshop has for years and pioneered) that allow you to separate objects and create layered water effects. On a recent painting of a Japanese Koi pond, I used layers to give the pond water some depth and allow koi fish to swim just under the water's surface.
Some of my images I create are designed simply to post online and share my art as well as flush out. These are done at much lower file sizes and resolutions. This allows me to work with dozens of layers. For images that I create for larger prints at 300 dot per inch ( a standard resolution for high quality prints), I have much fewer layers available to me. What this means is I have to plan my digital paintings in advance. As mentioned in past posts, I create a lot of digital sketches, paintings and colour studies on my iPad for my acrylic paintings on canvas. This allows me to mix colours, experiment with different ideas, without wasting paint or canvases. This is better for me and saves me money but it also way better for the environment. Some people don't like the idea of digital paintings. They don't feel they are real art. But the reality is you need to have skills to paint (for all types of painting) and understand colour theory, composition, rule of thirds and many other aspects of creating art.
Lastly, I wanted to mention again, that I have a number of my paintings (both digital and acrylic) available for sale at reasonable prices. They make great gifts, wedding presents and gifts at the workplace (retirements). Just drop me a note or call me at 250-784-8383 and we can discuss options. I am not focusing on too many commissions this summer as I am trying to spend as much time outside as I can.
Talk soon!
Gordon Currie