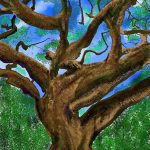 Special Note: Its been about 6 months since I posted a blog post on GordonCurrieArt.com. On Oct 9th, 2019, I suffered my 3rd stroke in the last 6 years. I was hospitalized for a week and ended up being readmitted a few times. I ended up going on short term disability and as of this date, I am still on disability.
This particular stroke was hard in that I was very sick for almost 3 months, 1-2 times a day. I made a trip down to Edmonton to see specialist doctors. To keep things short, I still struggle at times with balance, vision and some back/kidney pain but I am alive and still able to paint and make art.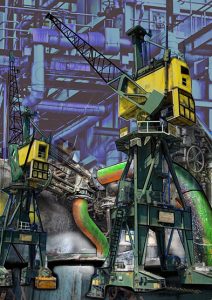 The Good News! Starting around Christmas time, I was able to start painting, albeit for shorter sessions. I started walking outside each day to get better and that has helped. I still have some health issues, but I adjusting.
Because of changes in my vision in my left eye (as a reminder, I am blind in my right eye) and so it takes me longer to paint acrylic/watercolour paintings than 6 months ago. But I am managing.
Using my iPad Pro and Apple pencil, I am creating a lot of digital paintings. These vary in theme from steampunk style paintings to winter themes to jungle and mountain scenes.
I have also shared with many folks that I am starting to promote my art more, hopefully selling paintings and starting in March, prints of some of my paintings. My only limitations are that I have to limit the amount of time each day that I paint.
So What Is With All The Steampunk Paintings?
During my art show event in January 2019, some of my commented on and appreciated work from the show included many steampunk-themed paintings. These are Jules Verne like industrial, old factory-type works. The big interest in these paintings (and now digital art) has come from the USA and Europe (and overseas).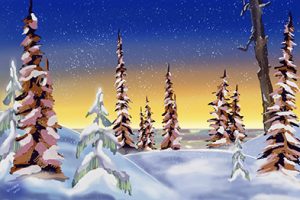 In the past 10+ years of painting, I focused on a lot of garden painting, birdhouses and landscapes around our area. The paintings included wagon wheels and the odd western theme.
The past work was fun to paint but I struggled to reach markets abroad outside our local area. Dawson Creek has a population of roughly 15,000 people. In order to sell more art, I need to hit markets all over Canada, the USA and if I am lucky, Europe.
So what does the future hold for me?
My health is very important to me and my family. I really cannot afford to have any more strokes. Art is a big part of my life and in a perfect world, I would like to become a professional artist. But not a starving artist.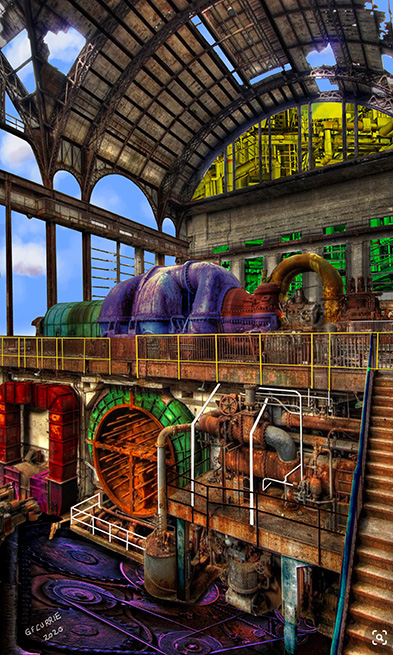 I plan to continue to paint acrylics, watercolours and paint digitally. Moving ahead into spring/summer of 2020, I want to paint daily, but also sell more original works and prints of my work. Prints are more affordable for people that want to own some of my work. My prices for most original acrylic paintings are under $500 in most cases. Prints can easily start at $100 to $200. Very affordable!
Over the next 6-12 months, you will see more landscapes, mountain scenes, more garden & birdhouse themed paintings. I will also continue sci-fi and fantasy paintings as well as abstract works. Lastly, I plan to paint some more marina /west coast paintings from the years of living on the coast of British Columbia.
Commissions
Many of the people that like my art have asked if I do commissions? I do and enjoy doing custom work for friends, family and clients looking for something unique. A commission price is usually based on the size, the complexity of the painting and on my available time. I can budget time each month for a commission. These paintings can make great gifts, giveaways for business clients and those who collect art.
So in conclusion, I hope to produce more paintings, and prints both in watercolour and acrylics as well as digital images. If you have any questions or are looking for art, please consider calling me at 250-784-8383 or email gcurrie@eldoren.com .
Thanks for all your support and I look forward to more posts very soon!
Gordon Currie