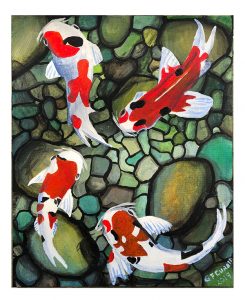 This week I wanted to share some different items in terms of my painting process. It varies for every painting, but there are some keys ideas I wanted to share. I research topics for my paintings and I also use programs/services like Pinterest to gather materials, textures, colours, for prelim sketches. I also collect a list of colours that I think a painting will require and any specialty painting effects and additives I may need. For many of my paintings, I use my iPad Pro 12.9″ with the Apple Pencil. I will sketch out concepts in the program Procreate. I use version 4, and it has a new release coming out in Nov 2019. Procreate allows you to create and purchase custom digital brushes and sketch pencil sketches to actual paintings with Oil and Acrylic brush libraries. I also take a lot of my photos (especially gardens and forests) and will mockup painting ideas using Adobe Photoshop CC. It's rare that I sit down and paint a piece of Art without some homework and research. When I tackle a project (like I did recently on Koi fish and mountain streams, I will amass about 100-130 images and also some articles on specialized effects for painting water or water reflections, I might sketch different effects on the iPad Pro and save online. Sometimes I draw on my iPhone as well.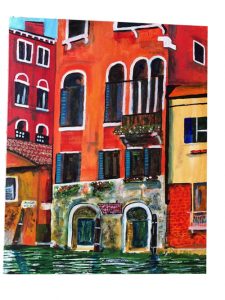 ** A lot of folks ask I manage to keep track of everything. Especially with painting projects. Well, I use several programs that include:
Evernote (used on all my devices)
I use Pocket to store websites and setup different folders.
I use DropBox to set up shared folders with clients and friends. I can email images and recordings to these folders.
I use some email folders as well.
Sizing my paintings
– I have been buying canvases and usually purchase 5-10 of one size at a time. They are usually 16 x 24″ or 18 x 24″. But I also by 1-2 larger 24 x 30 or 32″. It just depends on the project and where people wish to display work. Knowing the market for different sizes is good. In buying canvases, I tend to by every 4-6 weeks and look for sales of 30-45% off. And if I buy 4-5, I try to get a deal on shipping. I also buy on occasions soon, odd size canvases from Picture it if I can find some.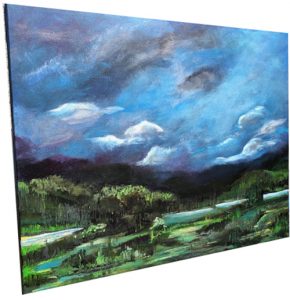 The NEW IOSiPad 13.1
just came out, and I am running it on all my IOS devices. It is very cool and makes working with an iPad Pro more exciting. It has a bunch of extra support for the Apple Pencil and some new gestures that are worth investigating.
New techniques
– This past 2-3 months, I started painting in some new styles. They include oil painting techniques and blending ( by using Acrylic Paints) and more aggressive, fluent brush strokes. On my recent Koi painting, I did about 15-18 different washes over the art in very watered down colours. The cool effect is the layering you get. How often do you paint? I get asked that a lot. I try to paint about 50 hrs a month if I can. That gets me about 1-2 paintings each month. Or about 18-24 a year. Most are originals and sold online or in some cases, donated to specific causes or events. I usually paint in the evenings from 7-10 or on weekends on Saturday and Sunday mornings. One thing I mention a lot is that as I develop as an artist, I am finding more and more I mix colours for almost all my paintings. I have many different blues and greens and yellows that I can combine. I have used a lot of Alizarin Crimson lately mixed to get some incredibly vibrant colours.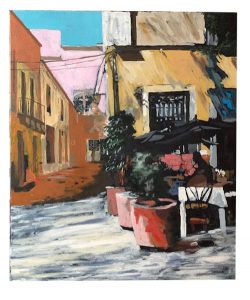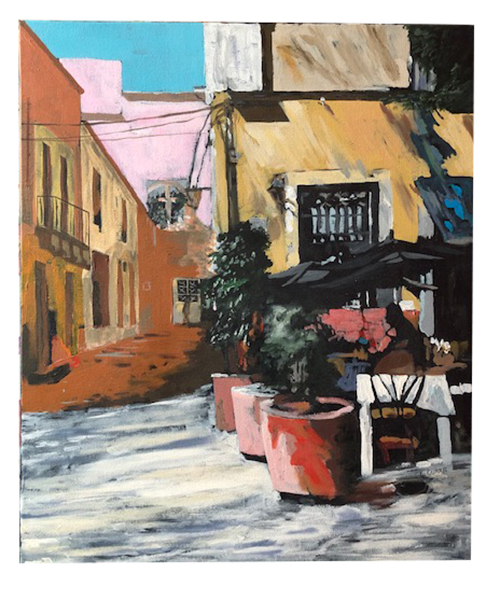 Another tip when painting is I will draw and research painting, and before I start to apply paint to the canvas, I will go to bed at night and think about what I am painting and how I plan to tackle painting and what ORDER the steps will be. I realized how important this was when I started the painting for the Japanese Koi fish. I had to picture clearly in my mind how to paint reflections, bubbles and the depth of the water above the stone stream bed. Its late September and I hope to paint some more paintings before Christmas for people looking for some custom work. I can paint a great deal and can work with different budgets and themes.