In early 2018, I started working on a new Sci-Fi / Steampunk series. This series was something I wanted to paint for a long time. The combination of old and new technology blended with gears, pipes, old factories and blast furnaces allowed me to experiment with colour and high contrast layouts. The first original in the series is called CoreWorld 2175 was a lot of fun to paint.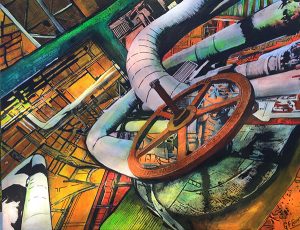 This new painting started with months of research on Pinterest looking for old buildings and factories as well as gears and rusty imagery. I gather about 8-12 images in Adobe Photoshop and manipulated them on various layers. From there I exported them and had low-resolution prints made on canvas. The canvas print was mounted on stretcher bars by local framer, Picture It Framing in Dawson Creek.
Once framed, I then started the painting process with acrylics and outlined with India ink. I started with light washes of colour, allowed them to dry and then started the background colours in oranges, rusts and around 32 different mixed shades. Pipes and other mechanical components were painted. This stage took 2-3 days. The following stages included painting shadows, highlights and more washes of colour.
The washes of colour are remarkable as they are microscopically thin but when layered allow you to get a translucent effect with the light bouncing off the canvas. Its quite impressive in the brighter light!
I then went over the dark blacks with India ink and also added a bunch of detailed lines and cracks in the pipe. The final effect was to thin out watery layers of yellows and oranges and washing the entire painting to simulate the warmer tones in the mental.
New paintings coming in the Sci-fi Series
Pictured below are paintings in this series (#2 thru #4). These are the black and white images I created prior to adding the colouring and India ink detailing. This is the first time these images have been shared publicly. These paintings will be completed in end of May and early June and will be for sale. Enjoy!
| | | |
| --- | --- | --- |
| "Level 81 – Atreides Mine" | "Early Stage Cito-plasmic Generator" | "Obsidian Dreams" |