Inside Secrets To How I Create Art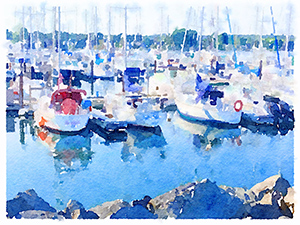 Today I wanted to share some of the ways I create art. In unique ways. Yes, I paint digitally on my iPad Pro and acrylic canvases, but few know how images and paintings come about. I wanted to share one example.
I recently used a reference photo for a digital drawing I painted. Many of my images are made up of 3-4 images that I assemble or Adobe Photoshop or Procreate. This is usually based on either my knowing how to draw something or want to include a tree from one picture and add it to another. With many of my Japanese-themed art, I take a waterfall from one photo and assemble it with a different scene if it suits the combined image I want to paint.
In the case of my digital painting, I completed it after a number of hours and had it printed on canvas and mounted on stretcher bars, and stapled it. In some cases, I stop there and hang the finished artwork. Today was different as I placed the painting on my mantle and sat and watched it for a while. I then started watching some youtube videos of artist James Gurney. I love his style of painting and past work paint dinosaurs for Dinotopia.
On one of the videos I watched he was teaching techniques for using gesso (I use gesso to base my canvases before applying colour) and modeling paste. He created bark-like textures for the skin of dinosaurs he was painting and I thought this would be a great technique to try.
So my plan is to apply modeling paste onto the areas on the canvas I had printed and repaint and add acrylic paint on the image. But first I would add texture using modeling paste. I would apply it with a palette knife and let it dry and then I can paint over it with acrylic paint, slightly thinned so that the paint would flow into the deeper recesses. I would use my acrylic gouache paints and regular heavy body acrylics and build up colour and textures. Many of my landscapes have mountains, trees, and logs that can be detailed with texture, giving the painting a 3D look.
One technique I have used is to thin down acrylic washes and paint multiple light washes over a painting, build up colour layers. When you get up to 20-30 layers of colour, the colour gives a luminescent glowing feel to the painting. It works well if you use quality paints with proper application. I would combine the glazing technique along with the texture technique to create a special painting.
So to recap, here are the techniques and technology I use to create this type of artwork:
Reference photos to understand how certain aspects of my painting look correct.
Using layers in Adobe Photoshop or Procreate software to comp up a concept drawing.
I watch videos on Youtube to learn new techniques or methods to create my art. I am inspired by other professionals.
I will complete my drawing on my iPad with Procreate and the Apple Pencil.
Once the drawing / digital painting is completed, in this case, I have it printed on canvas and stretched.
I then review the stretched painting, and apply modeling paste for texture, and then paint over the texture.
I then apply multiple glazes of transparent colour that when layered make the painting glow.
The last part would be to sign the image and spray with a protective varnish layer so the paint can be dusted off in the future without removing paint. The varnish also brightens the colours, maturing the blues and greens and warming the reds and oranges up.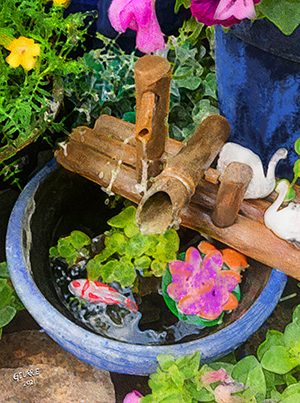 The above process is not used with all my art or paintings. But you can see I use different tools (mediums and software) along with techniques I have learned and picked up from professional artists I admire. Youtube allows me to watch and learn many new techniques at no cost.
The above is only one series of techniques I use. Every painting is original and unique. Now in some cases, I will create prints to sell as there is only one original and it might sell for $300-$600. My prints can sell and do sell for $150-$200 each. I keep my print runs below 50 so they keep their value. But a regular painting can generate the original price and then print prices. I print on highly quality paper using special archival inks that last 120-150 years
Hope you enjoyed this explanation of how I create art for some of my paintings. I will post additional techniques in the near future if there is interest!
Cheers
Gordon Currie