This week I was able to tie up some loose ends and finish up some "works in progress"! Once again, I got to pursue two paintings from my Garden Series and European Architecture Series.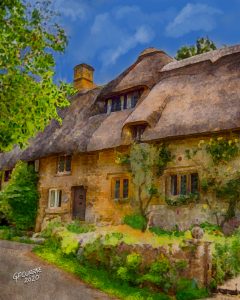 The first painting is:

English Garden House – this digital painting was created using three different reference photos and was created in Procreate 5X. I used about 12 custom foliage brushes, 3 custom brick brushes, some gravel brushes that I created and some custom cloud brushes. I spent about 12 hrs over 3 nights painting this on my iPad with an Apple pencil.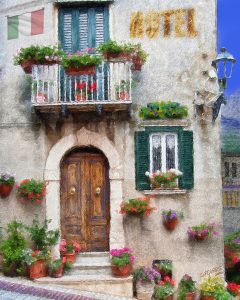 The second painting is:

Italian Architecture — I finished this Digital Painting today (I started it in September 2019). It was based on 6 different images I assembled in Adobe Photoshop. Once it was assembled, I exported to Procreate 5X and painted in additional flowers, Italian flag, and the background valley image on the right.  I spent about 10 hrs (estimated) painting this on my iPad with an Apple pencil.

PRICING CHANGE COMING IN NOVEMBER

Starting November 15th, 2020, our prices on our prints are going up about $10 each based on increased shipping costs. This prices will be:

11" x 17" — $39.95 + gst

16" x 20" — $44.95 + gst

18" x 24" — $55.95 + gst

*gst is only charged to Canadian orders

If you would like to lock in prices, order today, before the price increases!

————————-

The picture below was created for a friend who recently lost his dog, Bowser.