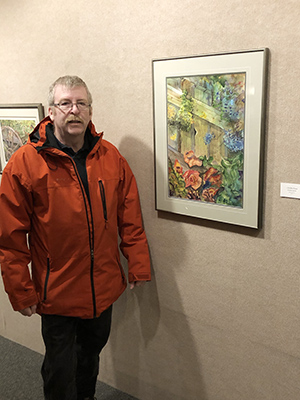 January 2019 was a busy time for me this year as I put over 32 pieces of my acrylic and watercolour art on display at the historic Dawson Creek Art Gallery. It was a a big success and after 3 weeks, I can certainly say I would do it again. But like many projects in my life, I learned a great deal promoting / selling art and also learning what people like and don't like. Here is my story and what I learned (in point form):
The secret is PLANNING – I booked my art show about 1 year in advance. This gave me lots of time to paint more artwork and most galleries are booked months if not years in advance. In fact, I inquired about booking another show and the lineup at the Dawson Creek Gallery is about 2 years. That's along time between shows.

What made my show successful ( I sold 2 paintings, gained interest in 3 more possible sales and had over 72 people attend my opening ) was the extra time in assembling my work, borrowing back previously sold paintings to display and getting the word out!

Although a number of people know I paint, many people in the community did not know HOW much I paint and the variety of subjects I paint. I reached out to many with flyers, Facebook posts ( and event posts) as well as getting people to share my opening night announcement. I personally emailed over 120 people and that helped get the word out. Pamphlets helped as well. Suzanne helped to distribute those.

Initially, I planned on showing about 95% original acrylics and maybe 5% Watercolours. In the end, I had about 15-20% watercolours, many of them already sold and in private collections. A lot of people loved the watercolours and so the message was pretty straight forward – There is a market for my watercolours. The challenge is many were matted, framed and with glass and that adds a lot of cost to the price of the individual work. Most shows required framing.

In choosing what work to show, I have my own favourites and assumed that certain paintings would get a lot of attention and some would not. Boy, was I wrong. Many of the pieces I figured that would sell or get above average attention did okay, but the older pieces and some I worried about, really got WAY MORE attention than expected.

The other surprise was I assumed ( you know what that means) that certain pieces of art would appeal to certain age groups. I could not be MORE wrong!Some paintings that I figured would only appeal to younger folks ( Age 16 to 25 ) were liked as much or more by the 50-65+ audience. I was pleasantly surprised. Asking them what they liked during the show was a humbling experience and really helped me in terms of future work that will sell.

Who buys MY Art? Well with only 2 paintings sold, these numbers can change but one was sold to a collector who buys art regularly and has a great eye for my favourite pieces and another was bought for a commercial firm looking for art for a new office. Those interested after the show included friends and family ( some at quite a distance).

In the past, I have sold quite a bit of art online to the US and other parts of Canada. But most of the art was sold to collectors that liked my watercolours and those who purchased specific prints. Print sales bring the prices down into the $150 – $200 range but it's not hard to sell 25-30 prints of each painting in a year.

Although I ran my show for about 3 weeks, I had an opening evening about a week into my show. It was a 2 hr opening, from 7-9pm and ran on a Friday night. The DC Gallery included punch, coffee and a cheese and dessert tray. This was nice and everyone loved it.

We chose not to serve wine or liquor as the risks associated with providing booze are simply too great. I have my serving it right and we could have offered wine but nowadays, if a guest at your event leaves with the possibility of an impaired charge, it is simply too costly if things go bad.Some people asked about a drink but I could easily spend any profit I made from sales, it costs to run the show.

It is worth mentioning that my goal was not to make money but to showcase my work, give people an idea about what I paint and why I paint. The exposure was very good! There is as much value to guests in knowing where I got my ideas and what techniques I used to paint certain types of work.

I did want to mention that I prepared some personal notes on each painting in advance and let guests know what made me paint the subjects that I did. I also shared in many cases, the approach or techniques that I used. Rather than simply explain "this was painted in watercolour or acrylic" I shared in some cases where I used India ink, airbrush techniques or how I blended colours.

Many of my paintings used layering and glazing techniques that caught the eye of the guests. In some examples, I used 40-50 layers of light, diluted washes and then let them dry between layers.In doing so, you can get very highly reflected colours in certain types of light. A very cool effect that takes time but is worthwhile!

In listening to fellow artists that visited my art show, it was interesting to hear them ask or mention what techniques I used to paint certain colours and textures. Painting cedar wood grain is something I have learned over the years and it was fun to share how I did it. Being open and upfront about my techniques is a real pleasure to share.

Common themes – One of the biggest surprises was that during the past few years of painting, many people commented they only liked certain themes and that an art show should be focused on maybe 2-3 themes for the paintings on display. This always bothered me and I thought it would hurt sales having so many DIFFERENT styles or subjects. As it turned out, I was totally wrong. I had paintings of buildings, gardens, aliens, sci-fi themes, underwater scenes, window boxes, snow scenes, birdhouses and more! The crowd that came to my opening all commented that they liked the bright colours and particularly the variety of subjects and themes. This turned out to be one of the top factors that so many people enjoyed my show. There were paintings for everyone.

Another bright side to my show (no pun intended) was that I typically paint with very bright colours and put a lot of thought into each painting when it comes to colour palettes, high contrast images, lots of shadow detail and complimentary colours that work well together. In many cases, people have no idea how much planning can go into a painting or how much research. That's why I think its critical in some cases that you share the experience and "journey" with people looking at buying your artwork.

Some pleasant surprises – In listening to the visitors to my show and the comments that were shared over the 3 week period, I heard some feedback that was exciting to hear but also quite a shock! Many people viewing my artwork saw detailed imagery that I never intended but "suggested" with brush strokes and colour. In some images, I spent hours working on shadow detail.

It was important when I paint that I don't specifically hide images in shadows but that I suggest small strokes or detail that could be interpreted but many as they viewed the artwork.I saw a lot of people who looked up close at paintings and then stepped back 4-6 feet and saw additional images and patterns. Some I intended and others I did not. I learned many years ago that it was important to leave room for the art observer to "see what they see" and to give them places in an image to explore a painting or rest their eyes. This became apparent on a series of "steampunk" style or "sci-fi" style images.

Another tip that was reflected in the comments was the different colours and details in shadows. Rarely are shadows black or grey. Many of my best shadows had blends of purple, green and burgundy. If I had an orange coloured component of a painting, I loved to mix blues and greens for the shadows with highlights to draw people in. This is very subtle but is worth doing.

The majority (but not all ) of my acrylic painting are varnished so as to protect the painting from dust and UV light but to also bring out the rich colour pigments. For a show, it's pretty important as well. I used spray on varnish and typically spray 2-3 coats ( in different directions) with drying time between each coat.

Appreciating your audience and attendees at the opening – I tried hard to see everyone and thank them for coming. It was very gratifying to see so many people come to my opening and view my work. I thanked as many as I could for coming. It was a great night! The Gallery staff were pleased and set a nice standard for the first show of the year.I also thanked the gallery staff, the curator and the folks who installed the show. Without their help, it would not have worked so well. Particularly the order that my work was hung. This made a HUGE difference and made for a true experience to people walking the show.

More surprises – one of my original framed watercolour paintings on display at the show was an airbrushed painting I did of some underwater fish. It was an experiment and my VERY FIRST airbrush watercolour. It was very surprising to me that so many people liked that image. Although I have airbrushed models over the years (cars, planes, not people!), this truly was a first. The matt work and framing and glass were about $300 so it does not normally allow for a great deal of extra profit for the painting effort. But it was very popular and ended up being displayed in the local paper after the show opening. Many thanks to the Dawson Creek Mirror for their great support!

Certain paintings, including the Old Growth Forest and Cedar Giants, were painted as they reminded me of the west coast and growing up on Vancouver Island. We travelled a lot and camped up and down the island as a youth and this inspired me. An interesting tidbit – the bark of the cedar trees looked very realistic to many and the many observers did not know that of all the paintings I have done, the old growth forest took the greatest amount of time. There are tree trunks that had over 40-60 passes of colour or washes to get a "cedar effect". A person starts by painting the different browns, oranges, blues, tans and pretty soon you have 10-12 hours of painting just of the tree trunks. But its fun to paint and realism is easy to achieve with the right effort.

The above notes are just some feedback from my show and an inside look at how I work and the joy that comes from painting.
Coming away from this show I came to a number of conclusions. They included:
I want to continue painting and showing
Planning in advance and promoting yourself is important
There are some themes I want to continue to explore, such as the old growth forest, the underwater scenes, European architecture and the sci-fi / steam punk themes.
I need to consider doing more watercolours and more prints as they sell well. Sometimes it is much harder to sell a watercolour original for $400-$600 vs selling 20-30 prints at $160 each.
Social Media promotions is well worth the time.
Timing the promotions and reminders is important as well.
I will share more info in a future blog post on things I learned! Cheers Gordon