Today I wanted to share some recent paintings. These paintings are both abstract and somewhat impressionistic. They are each 18″ X 24″, on deep canvases (1.5″ deep) and are both originals. If you are interested in either of these, don't hesitate to call me at 250-784-8383 or email me at gcurrie@eldoren.com. The price for each of these paintings is $250 + any shipping costs. These are originals and they do NOT have prints available.
"The Great Fire" – This painting started on a concept I had of a great old-growth forest hit by a lightning strike and catching fire. On one side you were presented with green foliage and trees and on the other side, a raging fire consuming the forest. A small pond of water sat between the two and the reflection of the fire could be visible.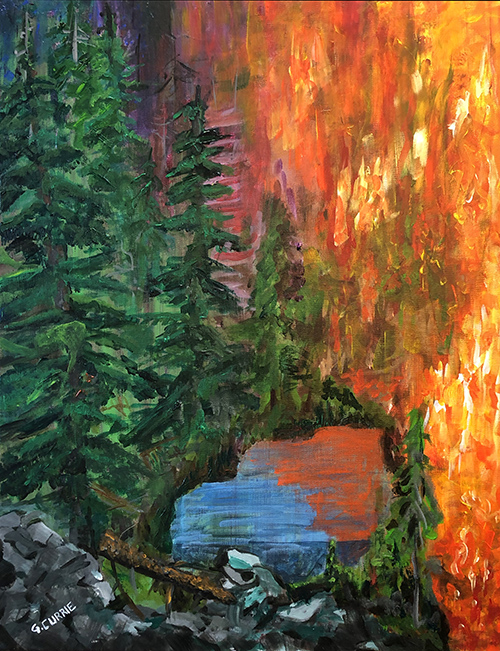 "Abstract Jungle" – This painting started out with a number of bright colours and represented a jungle scene with a variety of plants, trees and then some rendered bright colours in the centre. A stone wall is represented at the bottom ( close up you can see much more detail – the photo doesn't show that well, you need to see this in person! It's very colourful and quite intense.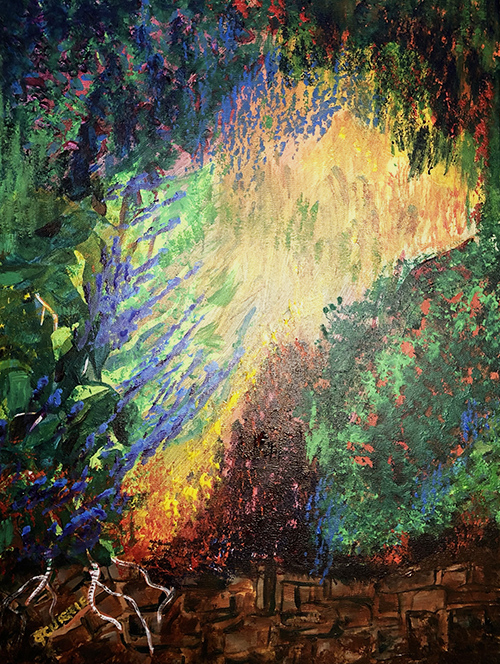 Reminder – I have a number of high-quality, original Acrylic paintings for sale and in stock — perfect for Christmas presents. I also have a number of custom digital art prints, of gardens, European architecture and other themes. Many are 16 x 20″ in size or bigger and are less than $75 a piece. Contact m today to check out my inventory. ** My plan was to put on a small display at Beans and Barley coffee shop this month but the current covid rules have made that next to impossible.